BE A BIG CHRISTMAS WINNER WITH YO1 RADIO'S 5 GOLD RINGS!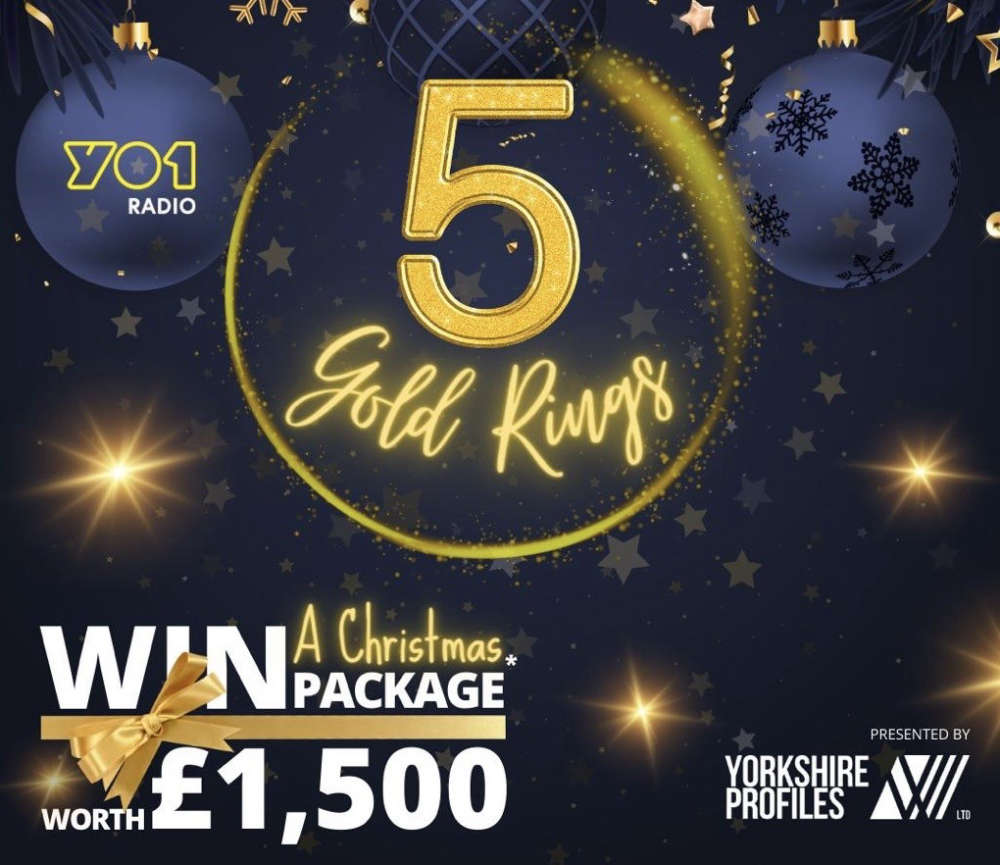 YO1 Radio has joined with YORKSHIRE PROFILES to bring you the chance to WIN BIG for Christmas - as we bring you a prize WORTH OVER £1,500 in YO1 Radio's FIVE GOLD RINGS!
WIN our Christmas Prize Package!
Our FANTASTIC prize package includes ALL of the following:
* £500 in cash
* Christmas Dinner for 5, with turkey and all the trimmings thanks to The York Roast Co.
* 5 Tickets to see any show at York Barbican
* A 'City Cruises Bundle' – 5 Sightseeing tickets, 5 Fish & Chips tickets and a Self-Drive boat for 5 passengers
* Champagne Afternoon Tea for 5 at Middletons
We think you'll agree, that's not a bad package!

HOW TO ENTER - AND HOW TO BE A WINNER!
All you need to do is enter your details in the form below and hit SUBMIT
We'll need you NAME, email address and most importantly, your CONTACT TELEPHONE NUMBER.
Then on the 23rd of DECEMBER, during Chris & Jayne's Christmas Brunch from 10am, we'll pick an entry AT RANDOM and make a call.
Make sure you're ready to answer your phone, though, because if you don't answer within 5 GOLD RINGS....we hang up and call somebody else!
We'll keep making the calls until we get a winner. The first to answer within those 5 GOLD RINGS wins the package of prizes - WORTH £1,500. Even better, the YO1 Radio Elves will come to you and deliver your prizes straight away!
You MUST live within a 20 mile radius of York City Centre to enter. And you must be within 20 miles of York on 23rd December to have your prize delivered.
You can enter ONCE PER DAY from 1st December to 22nd December. Entries close at 6pm on Friday 22nd December.
WIN with 5 Gold Rings - Powered by Yorkshire Profiles - specialist laser cutting and fabrication services and your local station - YO1 Radio!
HERE'S THE ENTRY FORM
TERMS & CONDITIONS
The prize on offer is as described above, there is no alternative prize available. We reserve the right to substitute any prize for one of equal value in the case that any prize becomes unavailable.
To enter the competition, you must live within a radius of 20 miles from York City Centre. We reserve the right to reject any entry we believe is from outside of this area. For the prize to be delivered, you must be located within 20 miles of York on 23rd December 2023.
You are allowed ONE entry each day, from 1st December to 22nd December. Multiple entries on the same day will ALL be rejected.
You must use your real name. We reserve the right to reject any entry using an alias.
Entries close at 6pm on Friday 22nd December. The winner will be chosen at random on Saturday 23rd December. The decision of YO1 Radio shall be FINAL in determining whether a call is answered within 5 rings.
We reserve the right to reject any entry - and the decision of the YO1 Radio shall be final. No correspondence will be entered into in connection with the competition and selection of the winner.
Employees (and their families) of YO1 Radio, and anyone with a direct connection to the radio station, competition sponsors or the providers of the prizes MAY NOT take part.